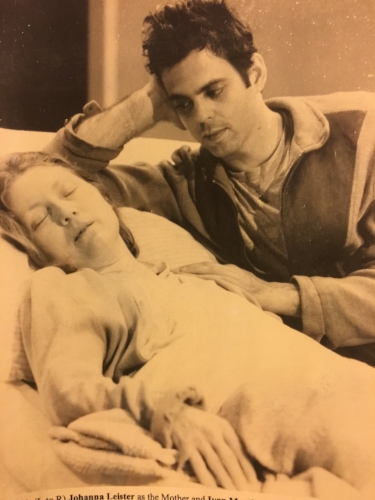 SQUATCH
The story of two Maine boys who go looking for Bigfoot in their backyard. But they're not the only ones hunting this most famous of cryptids! The search is on for the legendary SQUATCH!
SQUATCH will premier at the Penobscot Theatre Company's Dramatic Academy November 1-3.
Travis G. Baker
Upcoming theatre happenings include a reading of The Dogs Pond - the story of six men and the demons that haunt them at the Acorn Studio Space in South Portland on August, 10 and SQUATCH (co-written with Zane & Isaac) November 1-3 at PTC's Dramatic Academy. Most recently, The Store, was in the 2019 Maine Playwrights festival following last year's, Boy Missing. Hair Frenzy, debuted at the Penobscot Theatre Company in 2016. One Blue Tarp debuted at PTC in 2014 after winning the Best of Maine award from the Clauder New England Playwrights Competition the year before. Tarp has since been produced two more times, once in Maine and once in Washington. These works are all set in (or near) the town of Clara, ME which has proved an exciting place to generate stories from.
Prior to moving up here, I lived in New York. I received a Berilla Kerr Award for American Playwrights in 1998 for Cold (NY Fringe) and The Weatherbox (Rattlestick). Other works include God & Mr. Smith and Sex & Violence with the Kaleidoscope Theatre, and readings of Ich Liebe Dich Mi Amigo (Theatricum Botinicum) and Dream of the Burning Boy (Primary Stages).
I studied playwriting at the University of Houston with Edward Albee, interned at the Signature Theatre Co. with Horton Foote, John Guare, Adrienne Kennedy and Arthur Miller. I earned my BA at NYU, my MA at the University of Maine-Orono and his MFA at Fairfield University.
I live in Orono with my wife, Holly Twining, our boys, August and Zane and a bunch of animals. We play hockey.
The Dogs Pond
The latest: The Dogs Pond will have a staged reading in Portland, Maine on Aug 10, 7:30 pm at the new Acorn Studio Space (528 Main St., South Portland).
With the help of some dedicated individuals, I continue to try to find a full-production home for this play. Each reading, the workshop production at Whitefire last fall, every rewrite is a step closer. It's a tough task. It's a brutally honest work, profane, challenging, but accurate, important, poetic, funny and, ultimately, redemptive.
After serving in the Iraq war, Carters brother, Owen, has been withdrawn and mute. In the hopes of getting the brother he once knew back, Carter invites two of Owens service buddies, Bergsey and Stills, to join them for a weekend with their Uncle Pete, a Vietnam veteran, at their family cabin on the shores of The Dogs Pond in Maine. Upon their reuniting, these fellow soldiers revert to their usual boys will be boys antics of raucous ribbing, boozing, toking, fisticuffs and spirited chiding. As Carter listens to their crazy tales from the sandbox, he naively believes his plan is foolproof and that alls well that ends well. But, try as he might, his efforts go awry when he is forced to bear witness to the never-ending hidden and visible atrocities of war. The idyllic tranquility and male revelry is only a veiled respite from wars inescapable aftermath the physical deformities and haunting memories that loom in the light of day. To overcome the battlefields wrath, the only thing that this band of brothers can do is just keep holding on.
—
NYC - April 18. 6:45 pm at the MTC Studio Space presented by Kaleidoscope Theatre Co. An All-Star Cast will bring the woods of Maine to the big city!
Rewrites following fall readings in Long Beach, CA as the headliner of the Pandora's Box New Works Festival and Bangor, ME as part of the Dirigo Speaks Reading Series have shown this play, an O'Neill Semi-finalist, is ready for the big time.
Response from an audience member in Bangor: "I'm a vet and you nailed it. I knew every one of those guys up there. I go up to deer camp with them every fall."
A review from Long Beach:
"The Dogs Pond is a stunning portrayal of a small gathering of American veterans who have nothing in common, and yet - everything. Baker takes his audience to another realm, a keyhole peek into an incomprehensible state of reality that even a veteran combat soldier may furtively wish to have left behind. This is a place where men of war throughout history have journeyed before, but the very essence of warriors who have faced enemies head-on ultimately succumbs to the upshot of human brokenness as it roars its vile head in an indeterminate space and time. The Dogs Pond
is also a story about the impervious bond of brotherhood and the complexities of an unyielding love they have for each other that only those soldiers themselves can understand. Here lies the insight into the thought-provoking intensity hidden deep inside
the heads of the boys who did make it home. While they were once in the trenches desperately clinging to thoughts of coming home, these men must now live with searing memories of fallen comrades or massacred children, and it is only with one another can they fully and honestly be themselves. The under qualified quirkiness of "boys being boys" holds true as the real juxtaposition of the story; and while this band of brothers convey themselves inexorably through the saltiest of modern day language, they also fight, argue, make fun of each other, get ridiculously drunk, smoke pot, recall crazy stories from the "good times," and try their damndest to find meaning and some kind of warranted significance in their perpetually altered lives. Baker's merger between a kind of visceral fury and combustible dynamic force, along with the idea of a raggedy bunch of good ol' boys getting together for a long needed weekend in rural Maine, leads the audience on an unforgettable journey."
Review of Oct. 25 Pandora Productions Staged Reading by Angela Hatcher
--
History -
Extensive research has been done by talking to veterans - former students, Healing Waters, friends and family. Films such as Korengal and Jarhead have also helped as well as books (All Quiet on the Western Front, Noth Dallas 40 and Packed for the Wrong Trip by Zach Griffin). Additional info gathered from websites and social media groups.
The work also explores my personal demons (see Night and the Texas Sky in Books) and the ghosts that linger there in the past, their spectral claws forever raking the scars on my back.
BOY MISSING
A 10-minute play about loss and a search for answers.
Boy Missing premiered at the 2018 Maine Playwrights Festival to a rave review by the Portland Phoenix:
"The fest opens with two haggard drinkers at a bar talking around a traumatic disappearance, in Travis G. Baker's Boy Missing. Jerry (Jonas Werner) has barely looked in the direction of Darcy (Tracey Hall) before she lashes out, "Don't you even say a fucking word to me." As the two shadow-box around and finally at the heart of the sad matter, Baker's script is admirably allusive and restrained, rich in discursive leaps, the sidelong or unfinished phrase, and the unsaid. Its exposition — about family, prostitution, addiction — comes in nice loose brush strokes, and overall the script gives its affecting and well-cast actors lots of room to develop their characters via physical nuance. Tension levels escalate and release bracingly in Baker's well-crafted script, and director Lindsey Higgins does some super blocking work moving the two actors over the length of the bar, beautifully pacing the characters' tensions with proximity and distance, approach and retreat."
- Megan Grumbling
One Blue Tarp
David Stillman says you can have his tarp when you pry it out from under his cold, dead butt!
One Blue Tarp was named the Best of Maine in the 2013 Clauder New England Playwrights Competition.
It premiered at the Penobscot Theatre Company in 2014 setting box-office records for a non-musical (with two blizzards!)
Subsequent productions have been at Lakewood Theatre, 2015 and the San Juan Community Theatre in Friday Harbor, WA, 2016.
Script available on Amazon or the Orono Public Library.
Hair Frenzy
Tina is gonna go for it!
Hair Frenzy, the story of big dreams, small towns and bad hair, premiered at PTC in 2016. It was a riot!
Sex & Violence
Molly is dating Chris but Chris is still in love with Claire and Claire married Jimmy. Jimmy fucked up.
A thrice-cursed play, Sex & Violence premiered with the Kaleidoscope Theatre Company in 2010 to shocked and awed audiences.
"You made extremely unsympathetic characters sympathetic."
-Kelly AuCoin, The Americans
"Congratulations, Travis Baker, on writing a play with gratuitous everything in it. There's nudity, of course, but also sex, rape, anal rape, assault, blood, something like oral sex performed on a gun barrel, and more."
-NY Times
God & Mr. Smith
Going postal.
John Smith has been deleted from the databases of the world. All he wants is his life back but how can he prove he exists to a world that doesn't believe in people.
God & Mr. Smith debuted in November of 2001 with Kaleidoscope Theatre Company under the direction of Marshall Mays. Two months after the Towers went down and a few days after Holly said 'Yes!"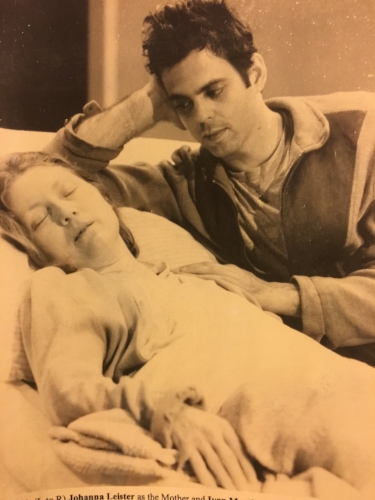 The Weatherbox
Let us go then, you and I...
Winner of a Berilla Kerr Award for American Playwrights.
Debuted at Rattlestick, mentored by Edward Albee, 1998.
In The Weatherbox, a peculiarly likable though rough-around-the-edges meditation on the American family from Rattlestick, playwright Travis Baker hits so many uncomfortably true-to-life notes that his play frequently makes you feel like you forgot to breathe. Mama's boy Tom (the appealingly over-the-top Rob Sedgwick) is nursing his cancer-ridden, near-death mother (Johanna Lesiter) when his long-lost and long-hated siblings Carol (Geneva Carr) and Dylan (Ivan Martin) arrive to say farewell. Like any reality-based drama worth its weight in torment, their appearance causes all hell to break loose, every familial slight of the last 30 years rearing its ugly head--pent-up revelation is the bread and butter of domestic drama. But what sets The Weatherbox apart is that while it begins like Cries and Whispers, it quickly starts behaving like Polyester. ''Make me a sandwich, would you?'' Carol asks Tom. ''Fuck you,'' he cheerfully responds. If that's not the true voice of the American family, I'll eat my Ph.D. in family dysfunction.
-Village Voice
Cold
When the wire pulls tight.
Five friends. One holding a gun. One dead on the floor.
Directed by Rebecca Feldman, named one of the Best of the Fringe at the 1st NYFringe Festival.
The Dogs Pond a play by Travis G Baker
Promo video for The Dogs Pond at the Whitefire Theatre Oct. 7, 14, 20, 21, 27, 28.